Citybus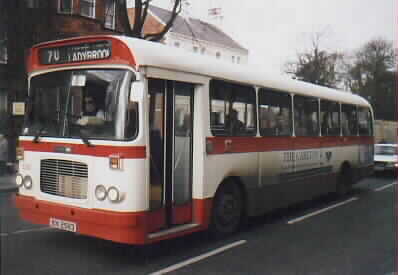 Citybus Bristol RE 2583, seen here on Malone Road in Belfast heading towards Ladybrook
Citybus was formed in 1973 when Ulsterbus took over the running of bus services in Belfast from the Belfast Corporation Transport Department. Ulsterbus had been running almost all the other bus services in Northern Ireland since 1967.
I knew nearly nothing about Citybus two years ago, but since coming to University in Belfast in 1996 I have been surrounded by Citybuses and travelled on them a lot and got very used to them. Citybus don't do as many school services as Ulsterbus, so their older buses get used on ordinary services a lot more. The majority of the buses used on the route I travel on most often (Malone) are Bristol REs, and I'm getting to know this type of bus very well.
There are more photographs and information on my Citybus Vehicle Types page.
There's some more information on the official Citybus Web Site.
Northern Ireland Bus Site