Ulsterbus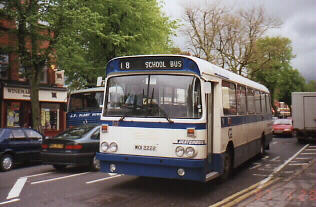 Ulsterbus Leyland Leopard 222 (WOI 2222)
Ulsterbus took over the running of buses in Northern Ireland outside Belfast from the Ulster Transport Authority in 1967, and today they operate over 1200 buses on school bus, local service and express journeys throughout Northern Ireland. I have been interested in Ulsterbuses since 1989 when I started travelling to school every day by bus.
This page gives some general information about the other parts of my Ulsterbus area. The fleet list contains details about all the buses owned by Ulsterbus at present, listed in depot order. There is more information about how the fleet list is arranged here.
When completed, the vehicle types page will have pictures and information about all the main types of bus currently operated by Ulsterbus. The services page, so far incomplete, will have a list of all the services operated by Ulsterbus, by service number, and will include some more timetables as well.
The Downpatrick Depot Page is coming on quite well and will have notes and observations by me about all the buses in the fleet I know best. Look out for the bus sound effect on it now. There is another sound effect (not as good quality) on the vehicle types page
---
News (4th June 1999)
Derry City-based Volvo B10L 2759 is painted in what appears to be a new experimental Ulsterbus livery. It is nearly all different shades of green swerving around with a few whooshes of blue from the bottom of the middle up towards the back. I think it looks awful. The only good-looking aspect is that the 'Ulsterbus' and 'A 'Translink' Service' fleetnames have been separated with 'Ulsterbus' and the Translink railway line 't' symbol in the usual place at the front and 'A 'Translink' Service' above the emergency door at the back. It now no longer gives the impression that the full name of Ulsterbus is 'Ulsterbus A Translink Service' and looks tidier.
I think the Derry B10Ls are being transferred to Citybus when the new B10BLEs arrive soon; if this bus is going to have to be repainted into Citybus livery soon that is probably why the trial was on it.
Pictures of Controlled-exposion-damaged and now scrapped Leyland Tiger 1334 are here.
Northern Ireland Bus Site