Lough Swilly Vehicle Types
Leyland Leopard
ex Ulsterbus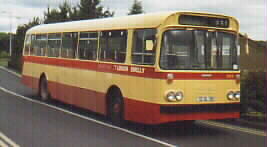 Lough Swilly Leyland Leopard / Alexander (Belfast) 323 (72-DL-39) ex Ulsterbus (DOI 1578), seen at Letterkenny Shopping Centre in June 1998
The majority of vehicles in the Lough Swilly fleet, although the proportion is now starting to decline slightly, are second-hand Leyland Leopards. The newest ones are about 17--18 years old and the oldest 25--30 years old. They obtained a large batch from Ulsterbus in the late 1980s, of which 323 shown above is one of the very few still in service now. I think there were some representative of all the early Ulsterbus Leopards, including WZ, AOI, BOI, COI and DOI-registered buses.
The COI buses seem to be mainly Leopard PSU3B/4Rs, while all the rest are PSU3A/4Rs. I've never been on one of these but I've heard one of the Lough Swilly ones and the Ulsterbus Newtownards tow bus 9512 (DOI 1512) and the engine noise seems to have a deeper pitch---more of a rumbling noise than the newer PSU3Cs and especially PSU3Es which I'm used to.
As with most Ulsterbuses, alternate batches of these Leopards had soft dual-purpose seats and hard bus seats, and Lough Swilly don't seem to have changed the seating arrangements, at least not on the bus in the picture above, which still has hard seats. These Ulsterbuses were used on normal passenger services up to about 1992--93 I think, and some of them would have been really quite uncomfortable for long journeys over bumpy roads.
ex Nottingham / Barton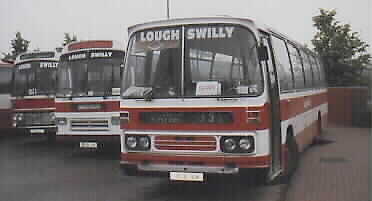 Lough Swilly Leopard / Duple 333 (75-DL-508) ex Monetgrange, Nottingham (LAL 750P) seen here at Derry Bus Station in June 1997
These coaches were obtained in the early 1990s to replace some of the Ulsterbus Leopards on normal services. This might have been about the time Lough Swilly was starting to face competition from North West Busways on some routes, using similar coaches. They're now starting to be withdrawn and aren't used very much, but the first time I went to see the Lough Swilly buses in 1997 I travelled on one from Derry to Letterkenny. It was probably about the oldest bus I've ever been on on an ordinary service, except maybe a bus in London. Even when I started school in 1989 the oldest Ulsterbuses in Downpatrick were from 1976.
The bus I was on (74-DL-89) had coach-style seats, individually sculpted but with the two seats still joined together. It was quite comfortable but very old looking at 23. Its Lough Swilly fleet number was 342, but the number displayed inside was 1375. This had been its fleet number when it belonged to Barton in Nottingham or somewhere around there. I read an article in a bus magazine once that implied that the Barton Leopards were quite famous in England; quite a few of them ended up at Lough Swilly. In 1997 the buses from Newcastle-upon-Tyne (see below) were starting to arrive, and with more new ones from Glasgow recently these older Leopard coaches are now mostly withdrawn or kept as spare buses.
ex Busways / Newcastle-upon-Tyne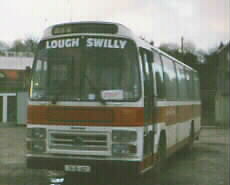 Lough Swilly Leyland Leopard / Plaxton 356 (78-DL-637) ex Stagecoach Busways, Newcastle-upon-Tyne (AHN 390T), seen here behind Letterkenny Bus Station in December 1997
These coaches were obtained in 1996--97 and are used regularly on normal passenger services, although they are starting to be displaced in a few places by the new Tiger Coaches (see below). 356 shown above has been used on the 16:15 from Letterkenny to Derry both times I have travelled on it. It goes to Derry via Bridgend, and in Newtowncunningham you can change onto another bus which goes direct to Derry via Killea and gets you there a bit quicker. In December 1997 this connecting bus was an ex-Newcastle-upon-Tyne Leopard, but in June 1998 it was a new ex-Clydeside Tiger.
I enjoyed travelling on this bus because I think it gave an insight into what older buses used in England are really like; you only ever see photographs of the outside of them in bus magazines. It was a bit like a coach converted into a bus, with a bus-type partition around the driver's seat etc. There were 'Stagecoach - Welcome Aboard' signs opposite the door, reflecting the fact that Newcastle Busways had been taken over by Stagecoach. Signs like this brighten up the bus and made it more welcoming, which is maybe why Lough Swilly seems to have made no effort to remove them. The fluorescent yellow fleet numbers in the destination screen are another interesting modern feature, probably also added near the end of the bus's life in England.
ex Clydeside / Scotland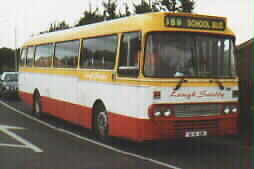 Lough Swilly Leyland Leyland Leopard / Alexander (Scotland) 389 (80-DL-690) ex Clydeside, Glasgow (GCS 30V), seen in Letterkenny in June 1998
Comment about school bus services, Scottish version of the Ulsterbus shown above
Leyland Tiger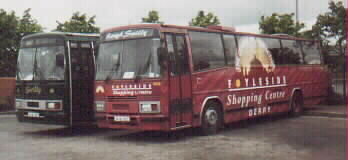 Lough Swilly Leyland Tiger / Plaxton 402 (84-DL-2122) ex Clydeside, Glasgow (A179 UGB): the first bus with an allover advertising livery, seen here in Foyle Street bus station in Derry
Northern Ireland Bus Site